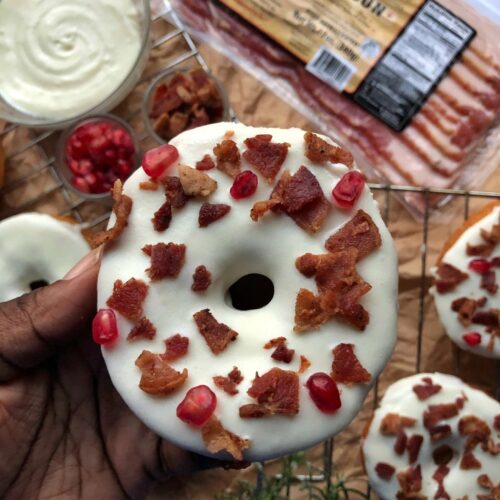 Vanilla Glazed Bacon Donuts
Ingredients
Donut Ingredients
1

cup

whole milk

warmed to 115°F

1

tablespoon

active dry yeast

1/4

cup

granulated sugar

plus 1 teaspoon (divided)

2

large eggs

1

stick unsalted butter

melted and cooled (8 tablespoons)

1

teaspoon

vanilla extract

1/4

teaspoon

salt

1/4

teaspoon

freshly grated nutmeg

1/4

teaspoon

ground cinnamon

3 to 3 1/2

cups

bread flour

plus more as needed

Vegetable oil for deep frying

about 2 quarts

6

strips of Bacon

cooked and chopped for topping

Pomegranate Seeds

optional
Icing Ingredients
4

cups

powdered sugar

plus more if thicker consistency is desired (yes, 4 cups!)

4

tbsp

milk

(or hot water for desired consistency)

1/2

cup

butter

3

teaspoon

vanilla extract

1/4

teaspoon

maple extract

plus more to taste
Instructions
Icing Directions
Sift the powdered sugar into a medium-sized bowl.

Add the melted butter, 2 tablespoons of milk or hot water, and the vanilla to the powdered sugar. Stir to blend.

Beat with an electric mixer until smooth and creamy, adding a little more milk or hot water if necessary to reach desired consistency.
DONUT directions
Attach the dough hook attachment to the stand mixer, if using. In the bowl of a stand mixer, add warm milk (115°F), active dry yeast, and 1 teaspoon sugar. Combine and let it sit for 10 minutes until frothy.

To the same bowl, add the eggs, melted butter, vanilla extract, salt, grated nutmeg, cinnamon, and 2 cups of the bread flour. Mix on medium speed for about 1-2 minutes. Mix in remaining bread flour, 1/2 cup at a time until a dough forms. Increase speed to medium-high, and mix until dough pulls away from the bowl and a manageable dough forms. The dough should manageable, soft, and slightly sticky. If needed, add more flour little by little.

Transfer dough to a floured surface and knead by hand for about 4-5 minutes, sprinkling more flour as necessary. At this point, the dough should be elastic, very manageable, soft, and slightly sticky. It should also spring back when poked. Do not over-knead; you can tell if you over-kneaded the dough if it feels tough and dense.

Form dough into a ball and place on a lightly oiled bowl, making sure the dough is coated with oil on all sides. Vegetable oil is fine. Cover the bowl with plastic wrap and let it rise in a warm and draft-free environment for about 1.5 hours, until doubled in size. I usually let dough rise in a warm-ish oven.

After the dough has risen, punch it down and transfer to a clean surface. Using a rolling pin, roll to 1/2 inch thick.

Using a donut cutter or round cookie/biscuit cutters, cut into 12 donuts. Should make 12 donuts and 12 donut holes. Transfer them to 2 large baking sheets. Cover with plastic wrap and let them rise in a warm environment for another 20-30 minutes.

In a large Dutch oven or heavy pot, heat vegetable oil to 375°F. To monitor the oil's temperature, clip a candy thermometer to the pot (like the photo above). Cook the donuts one minute per side, about 3 donuts at a time. Transfer to a rack placed on top of a large baking sheet or something to catch any dripping oil.

Fry the donut holes after you're done with the donuts, about 6 at a time. Transfer to a rack.

While the donuts cool a bit, make the vanilla glaze. The glaze should be thick enough to stay on the donuts.

Dip warm doughnuts in the glaze on one side. Let them cool for the glaze to harden, about 15 minutes. To get a thick coating, double dip after the first layer dries. Top with chopped bacon and an optional pomegranate seeds and Enjoy!