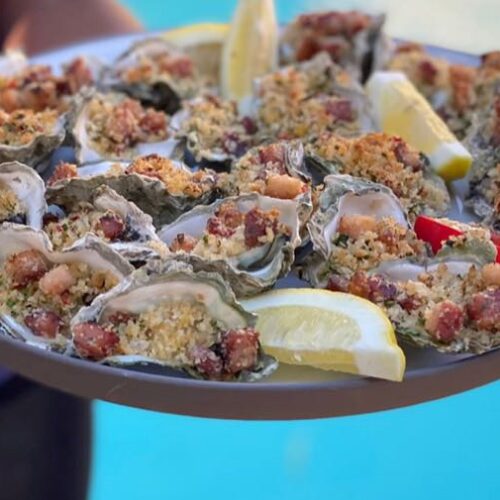 Baker's Bacon BBQ Oysters by Chef Jason Fullilove
Ingredients
½

lb

Sous Vide Baker's Bacon

2

dozen Oysters

1

cup

Parsley

¼

cup

Chives

1

tablespoon

Garlic

1

tablespoon

Shallots

1

ea Diced Fresno

1

ea Sliced Serrano

Zest of one lemon

2

cups

Panko Breadcrumbs
Instructions
Dice bacon and cook over medium heat until brown.

Add Garlic, Shallots, Chilis and Panko breadcrumbs.

Cook until breadcrumbs are golden brown. Remove from heat.

Place in bowl and add parsley, chives, salt and pepper to taste and the zest of one lemon, Mix.

Lay shucked oysters on perforated pan.

Spoon breadcrumb mixture into each oyster.

Grill or bake at 350°F for 10 minutes.

Plate with fresh lemon wedges for garnish and enjoy.