in the media
Read up on our accolades, and learn more about Baker's Bacon, in some of the publications highlighting our products.
Grand Opening in Marina!
On Monday, September 21 – Baker's Bacon opened the doors to our shop in Marina, to much fanfare and congratulations among the community.
Local news channel KSBW stopped by to preview our space and interview owner and chef Tony Baker.
Both Edible Monterey Bay and Monterey County Weekly also joined in the celebration:
Local chef Tony Baker – formerly of Montrio Bistro and now a full time entrepreneur – just opened his own shop at 445 Reservation Rd. in Marina. The store stocks premium cuts of meat, cold cuts and his signature Baker's Bacon, along with other artisanal food products. English-style Baker's Bacon was created by the British expat using traditional techniques of dry-curing and smoking over applewood. The Baker's Bacon store is open Monday to Friday from 10am to 6pm.     – Edible Monterey Bay

 

Achin' for Bacon… Have you ever gone through your list of subscriptions (wine, streaming apps, Beanie Babies) and wished you could add bacon? Now you can. Baker's Bacon is offering the Bacon Club. You can get a 5-pound box of different types of bacon once a month, shipped straight to your door.     – Monterey County Weekly
It was a busy month of opening both the online store at http://shop.bakersbacon.com and opening our IRL (in real life) store to our customers within just a few weeks! 
Now it's time to start packing all those subscription boxes…!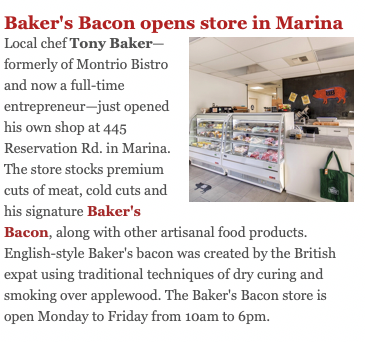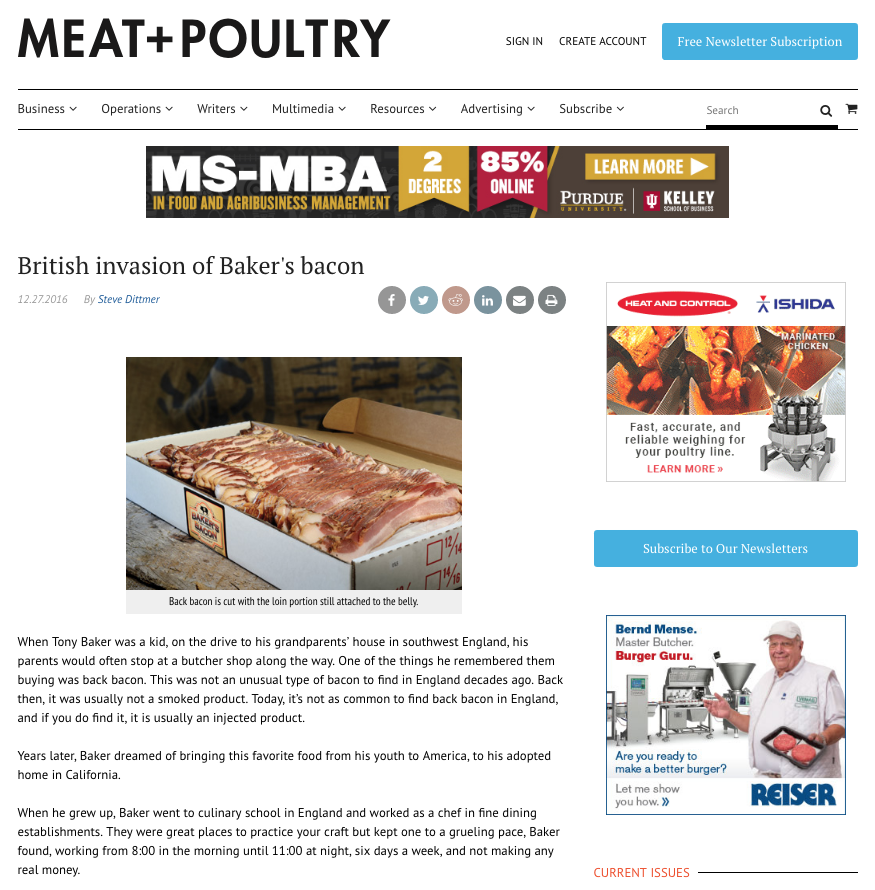 British Invasion of Baker's Bacon
Meat + Poultry, 12.27.2016 By Steve Dittmer
Read the full article here.
When Tony Baker was a kid, on the drive to his grandparents' house in southwest England, his parents would often stop at a butcher shop along the way. One of the things he remembered them buying was back bacon. This was not an unusual type of bacon to find in England decades ago. Back then, it was usually not a smoked product. Today, it's not as common to find back bacon in England, and if you do find it, it is usually an injected product.
Years later, Baker dreamed of bringing this favorite food from his youth to America, to his adopted home in California.
When he grew up, Baker went to culinary school in England and worked as a chef in fine dining establishments. They were great places to practice your craft but kept one to a grueling pace, Baker found, working from 8:00 in the morning until 11:00 at night, six days a week, and not making any real money.
In 1994, he came to America for a vacation and visited his uncle in the Carmel Valley of California. His uncle's favorite restaurant was called the "Rio Grill." In California today, Baker is part owner of sister restaurant Montrio Bistro. And now, he has been able to bring to fruition his other dream – dry-cured back bacon… keep reading
California: Always In Season
Food & Wine, October 2014
Access the full magazine here
In part 5 of this 6-part series, we travel to Monterey. With easy access to lush, local produce, the city is a haven for the state's restaurateurs like Chef Tony Baker of Montrio Bistro. Chefs in Monterey create dishes that are jam-packed with Golden State flavors, made possible by California farmers who turn out more than 400 crops of fruits, vegetables and nuts annually. "So many great ingredients are grown at our doorstep," says Baker. Many of his favorites come from fourth- generation farmer Troy Boutonnet of Ocean Mist Farms, whose crops thrive in the Mediterranean climate of the Salinas Valley, just a few miles inland from the Monterey Coast.
Bright, sunny afternoons that cool as the evening fog rolls in are ideal for growing artichokes, the farm's signature crop. The abundance of local produce and a constant supply of fresh seafood from the bay are a boost to Monterey's burgeoning culinary scene—which, along with the world- renowned Monterey Bay Aquarium, beachside hotels and the Big Sur coastline, make Monterey Bay a vibrant, exciting locale to visit. "Monterey's a great place to live," says Baker. "It's a friendly, welcoming, warm community. We don't have to worry about much."
Chef Baker never worries about the quality of the produce from Ocean Mist Farms. "The artichokes come to my back door. I know they're the best artichokes that I can possibly get," he says "And that makes it easy."
"I can't say enough for what Chef Tony has done for Ocean Mist Farms," says Troy.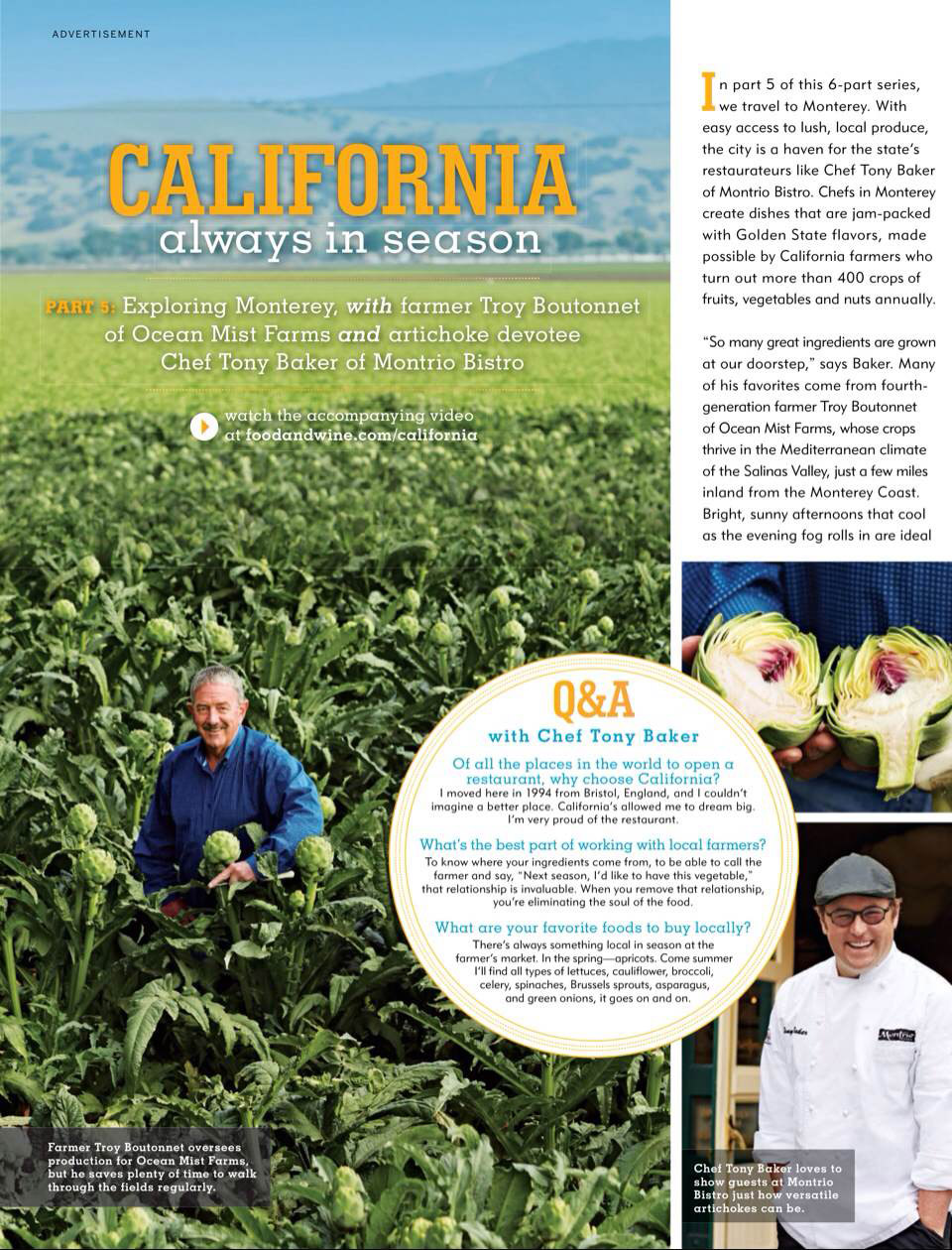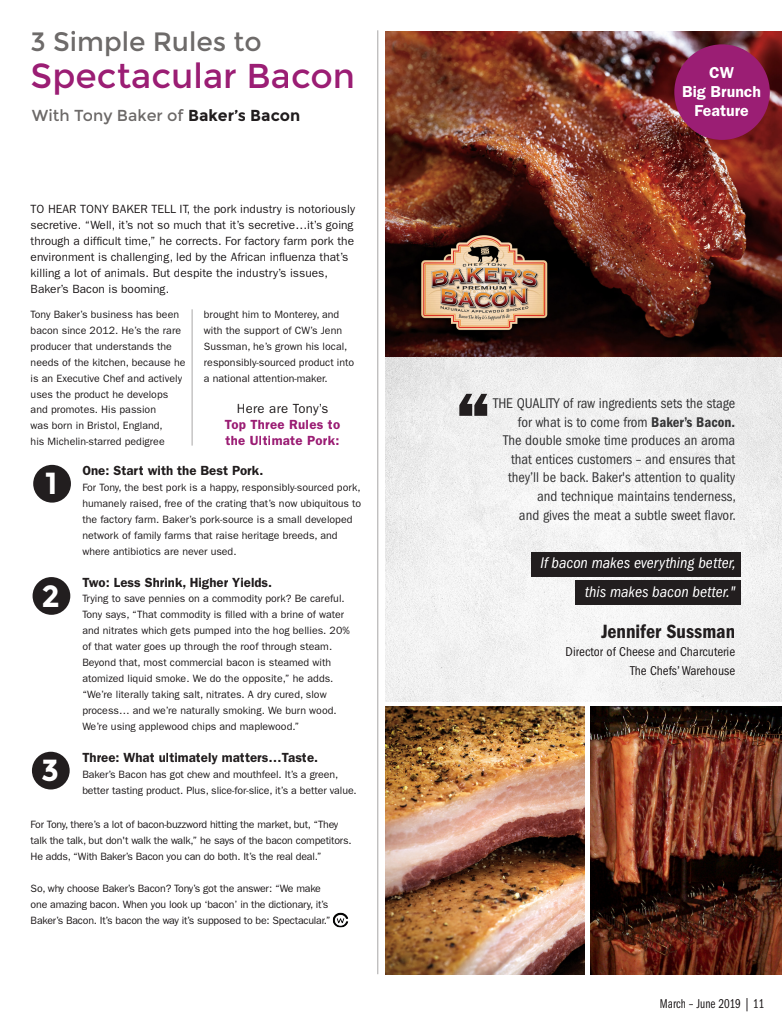 3 Simple Rules to Spectacular Bacon
Chef's Warehouse, March 11, 2019
Read the full article here.
To hear Tony Baker tell it, the pork industry is notoriously secretive. "Well, it's not so much that it's secretive…it's going through a difficult time," he corrects. For factory farm pork the environment is challenging, led by the African influenza that's killing a lot of animals. But despite the industry's issues, Baker's Bacon is booming.
Tony Baker's business has been bacon since 2012. He's the rare producer that understands the needs of the kitchen, because he is an Executive Chef and actively uses the product he develops and promotes. His passion was born in Bristol, England, his Michelin-starred pedigree brought him to Monterey, and with the support of CW's Jenn Sussman, he's grown his local, responsibly-sourced product into a national attention-maker.
Here are Tony's Top Three Rules to the Ultimate Pork:
One: Start with the Best Pork.
For Tony, the best pork is a happy, responsibly-sourced pork, humanely raised, free of the crating that's now ubiquitous to the factory farm. Baker's pork-source is a small developed network of family farms that raise heritage breeds, and where antibiotics are never used.
Two: Less Shrink, Higher Yields.
Trying to save pennies on a commodity pork? Be careful. Tony says, "That commodity is filled with a brine of water and nitrates which gets pumped into the hog bellies. 20% of that water goes up through the roof through steam. Beyond that, most commercial bacon is steamed with atomized liquid smoke. We do the opposite," he adds….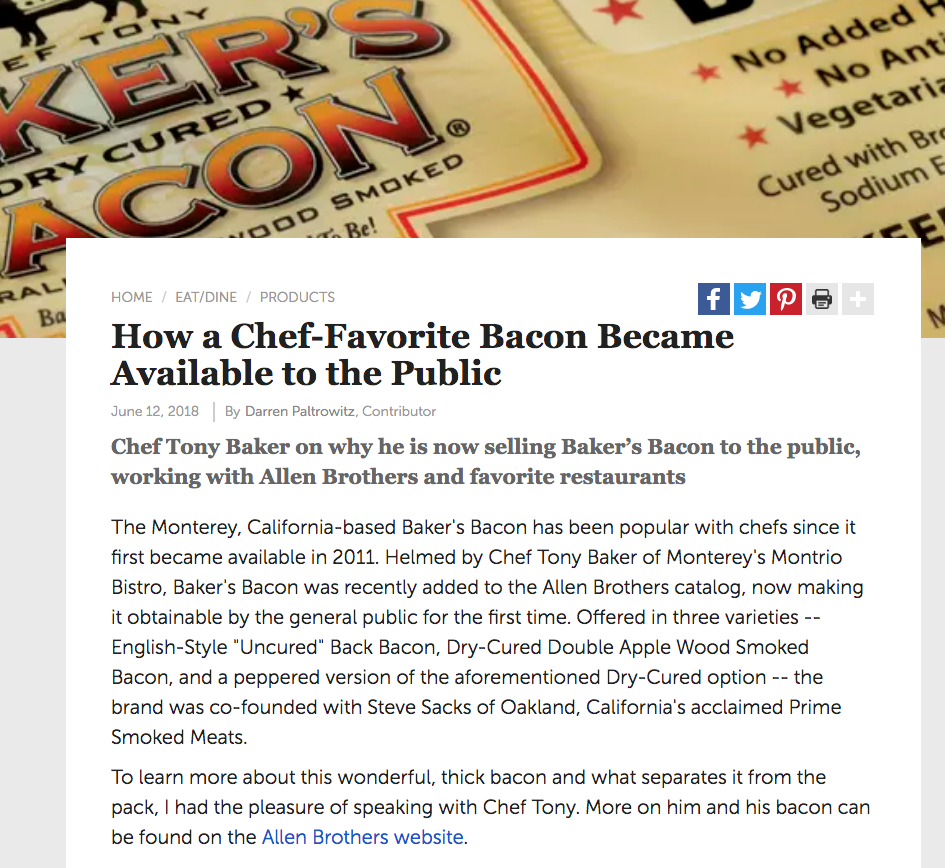 How a Chef-Favorite Bacon Became Available to the Public
The Daily Meal – June 12, 2018 – Darren Paltrowitz
Chef Tony Baker on why he is now selling Baker's Bacon to the public, working with Allen Brothers and favorite restaurants … read more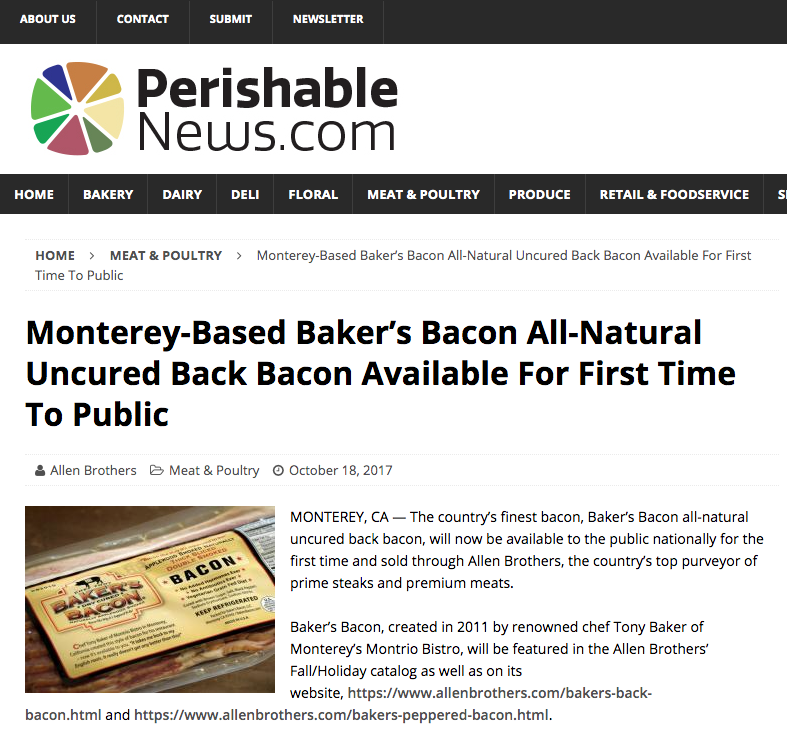 Monterey-Based Baker's Bacon All-Natural Uncured Back Bacon Available For First Time To Public
Perishable News – October 2017 – Allen Brothers
MONTEREY, CA — The country's finest bacon, Baker's Bacon all-natural uncured back bacon, will now be available to the public nationally for the first time and sold through Allen Brothers, the country's top purveyor of prime steaks and premium meats. … read more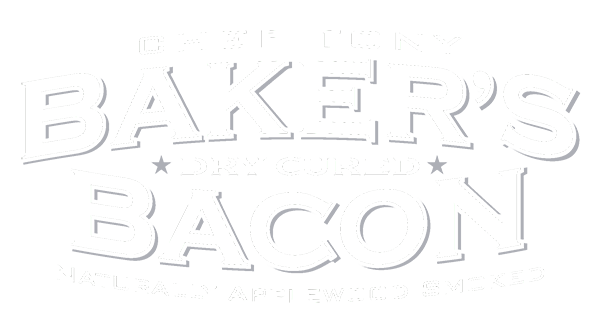 445 Reservation Rd Suite G
Marina, CA 93933
TEL: 831.250.0606
FAX: 831.886.3697
Copyright © 2023 Baker's Bacon, LLC. All Rights Reserved.