THANKSGIVING
Enjoy these holiday recipes from Baker's Bacon!
Happy Thanksgiving from Baker's Bacon!
For this month's bacon subscription we're featuring recipes direct from owner and chef Tony Baker: 
Just in time for your Thanksgiving dinner planning – we've got a beautiful dish celebrating our dry-cured double-smoke slab bacon paired with Brussels sprouts and other autumn-inspired ingredients – and, an easy and delicious stuffing recipe.
To top it off – sure to be the centerpiece of your Thanksgiving Dinner – we have a recipe for roasting your bird under a beautiful braid of bacon. Be sure to watch the video for step-by-step directions, and let us know how it all went!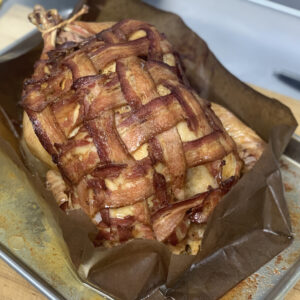 Baker's Bacon Braid
Baker's Bacon is a great addition to your holiday bird. Made from Baker's Bacon Dry Cured Double Smoked Thick Sliced Bacon this braid hugs your turkey in flavor and locks in the moisture. Your Thanksgiving turkey will be the star of the feast.
Ingredients
1 10-12

lb

Mary's Free Range Turkey

12

slices

Thick Sliced Double Smoked Dry Cured Bakers Bacon

1

plain brown paper bag

3

binder clips

salt and pepper to taste

¼

cup

vegetable oil or non stick pan spray
Instructions
Preheat oven to 375 degrees Fahrenheit

Season bird with salt and fresh black pepper

Lay out two 12" pieces of plastic wrap. To form the braid, lay 6 slices of bacon horizontally work left to right folding every other slice back to lay one piece down vertically. Then lay each piece back out. Alternate which pieces you fold back when laying the next vertical slice of bacon. Continue to do this until you have a 6x6 bacon braid.

Cover the braid with plastic wrap and roll out with a rolling pin. This will help make it even as well as bind it.

Take your bacon braid and lay it over the top of your seasoned bird.

Top with cracked black pepper.

Open your paper bag and spray very generously with pan spray inside and out. Completely coat the bag, if you leave a dry spot, it could burn the bag creating ash.

Place your bacon bird inside the paper bag and set on roasting rack and sheet tray.

Secure it closed with binder clips. This creates a moisture locking system.

Roast until your bird reaches 130° and then tear off the bag and crisp the braid and bird.

Allow to rest, carve, and serve
Video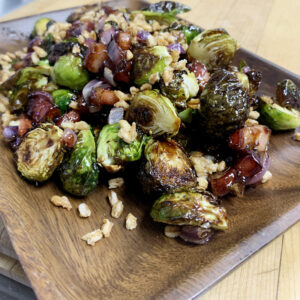 Baker's Bacon Thanksgiving Brussel Sprouts
Chef Tony's Bacon Brussels Sprouts make a great side dish for your Thanksgiving feast or holiday family meal. This seasonal dish is great for the fall and entertaining. It features Baker's Bacon Dry Cured Double Smoked Slab. Bacon makes every vegetable dish better!
Ingredients
1

lb

Brussel Sprouts

1

Red Onion

1/2

lb

Baker's Bacon Dry Cured Double Smoked Slab Bacon

1

cup

White Balsamic Vinegar

¼

cup

Honey

1

tsp

Chili Flakes

¼

cup

Puffed Rice

find it at your local health food store!
Instructions
Preheat oven to 425. Line baking sheet with parchment paper and set aside.

Cut Baker's Bacon slab into ½ in cubes. Cook bacon until golden brown. Set aside and save bacon grease.

Take a large kitchen bowl, trim the bottom of the brussels and cut in half.

Dice red onion into medium cubes.

In large bowl, toss brussels and red onion in bacon fat, salt and pepper. Roast in oven at 425 for 25-30 minutes. Stir occasionally.

While Brussels cook, combine balsamic, honey and chili flake in small pot on the stove, reduce down by half.

Once brussels are roasted, toss with balsamic mixture and bacon.

Top with puffed rice and serve.
Video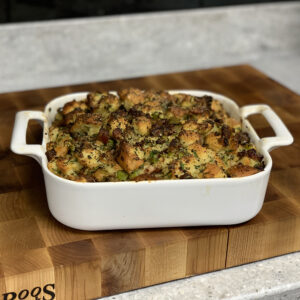 Baker's Bacon Thanksgiving Stuffing
Chef Tony's Sausage and Bacon Stuffing makes a great side dish for your Thanksgiving feast or holiday family meal. This seasonal dish is great for the fall and entertaining. It features Baker's Bacon Dry Cured Double Smoked Bacon.
Ingredients
1/4

lb

Butter

1

lb

Sausage Meat

remove casings if links

8

oz

Bakers Double Smoked Bacon Slab

small dice

1

large loaf Crusty white bread

preferably a bit stale cut into rough cubes

3

Celery stalks

small dice

2

Onions small dice

1/2

bunch Sage

chiffonade

1/2

bunch Parsley

picked and chopped

1/2

bunch Thyme

picked and chopped

3

Eggs

2-1/2

cups

Chicken Stock

heated
Instructions
In a large skillet add butter, brown the sausage meat and bacon, crumbling the sausage it into small pieces

Add the onion, celery, thyme and sage cook about 6 mins until onions are tender

In a large bowl mix the stock, eggs and parsley

Add the bread to the stock mixture, add the sausage and mix well

Cover and let sit for 30 mins to allow the bread to soak up the moisture
Video
Notes
Either stuff your bird, or bake in a buttered pyrex dish until brown and crispy on top.
Chef & Owner of Baker's Bacon – Tony Baker
British-born Chef Tony Baker launched Baker's Bacon in 2011 after a long and successful career both in England and California.
 Tony's passion for working with his hands, sourcing the best ingredients and making food with care is ingrained in him. He remembers his days as a Boy Scout, which sparked his interest about pursuing a culinary career after he took a baking class.
Classically trained in the culinary arts at Brunel Technical College in Bristol, England, Tony began his career at multiple fine-dining, Michelin-starred restaurants around London including L'Ortolan, Lucknam Park Hotel and Hintlesham Hall. Hospitality skills clearly run in the family as his oldest daughter currently works at the Lucknam Park Hotel.
In 1994, he felt the pull to hop across the pond and began working for Montrio Bistro, part of the Downtown Dining Group, in Monterey, California. During his 25-year tenure there, Tony thrived working with the bounty of fresh California ingredients and local farmers. He also partnered with the Monterey Bay Aquarium's Seafood Watch program and drove Montrio to become a certified Green Restaurant with the Green Restaurant Association, which evaluated all levels of sustainability for the business. While there, Montrio was consistently voted the "Best Restaurant in Monterey" by local readers' polls.
Now, he employs that same artistry and technique to the small-batch, top-quality dry-cured and double-smoked bacon he makes using heritage breed pork for Baker's Bacon. He began making bacon for the three restaurants in the Downtown Dining Group (Montrio, Tarpy's and Rio Grill) and then expanded into wholesale distribution, selling his bacon to other chefs around the country.
"The market is saturated with mass-produced, watery bacon, and I wanted a high-end product that met my quality expectations," he says. "Great bacon should have just the right balance of salt, sugar and smoke. Our bacon takes me back to my English roots."
With multiple awards to his name, including the United Fresh Produce Excellence in Foodservice award in fine dining, the American Culinary Federation's 2018 "Chef of the Year" and Edible Magazine's "Chef of the Year," Tony has also been invited as a guest chef for several events including Obsession at Northcote Manor and the prestigious Pebble Beach Food & Wine.
He lives in Salinas, California, with his wife and his favorite way to eat bacon at home is in a "Bacon Butty" – a traditional English sandwich of a soft flour roll, Kerrygold salted butter, back bacon and a squirt of HP sauce.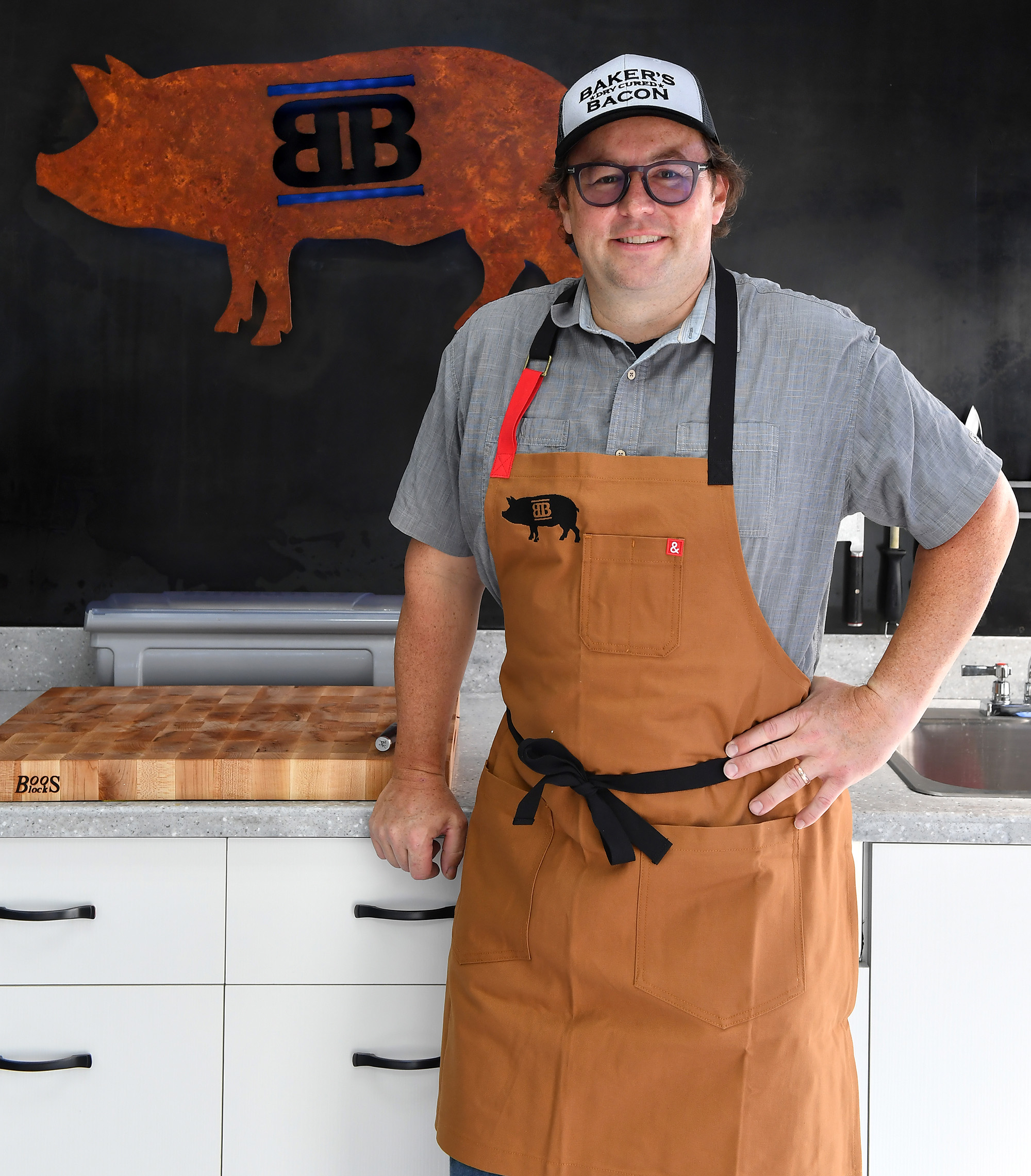 Baker's Bacon makes every dish better – whether you need bacon for this recipe, or you're inventing your own dish, don't forget to bring home the bacon with convenient delivery right to your door! Select your cut below and check out on our convenient online store.
 Want bacon delivered to your door every month, with FREE SHIPPING? Try out our Bacon Club, available for monthly, 3-month, or 6-month boxes of bacon, merchandise, and members-only exclusive recipes!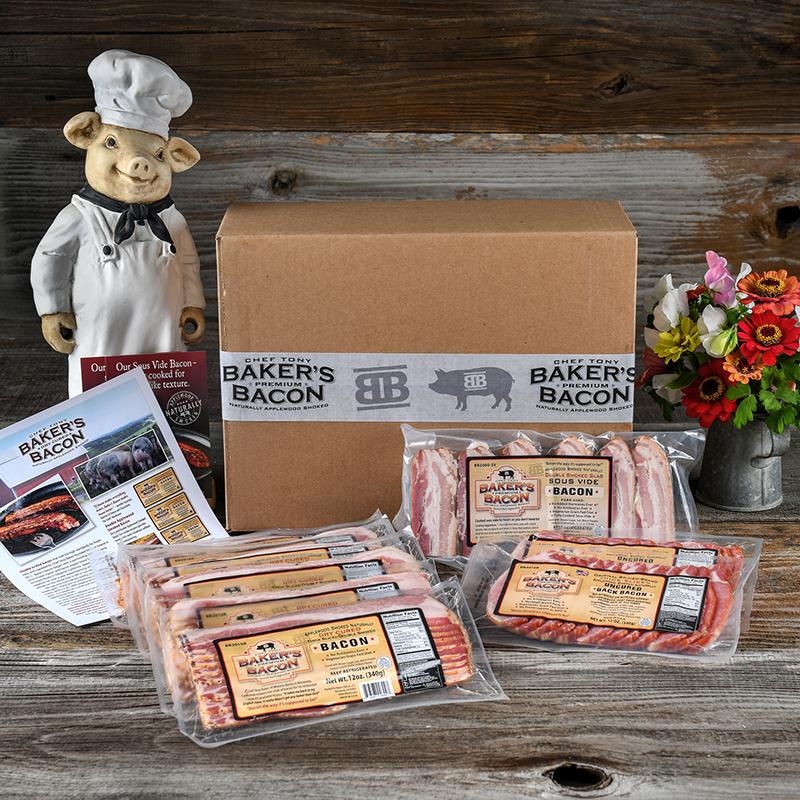 Baker's Bacon
Subscription Box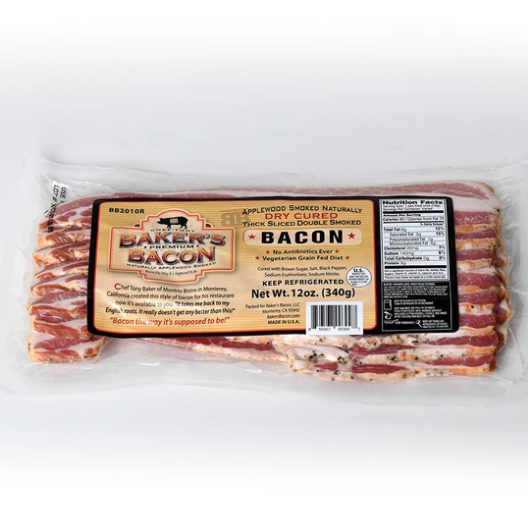 Thick Sliced Double
Smoked Bacon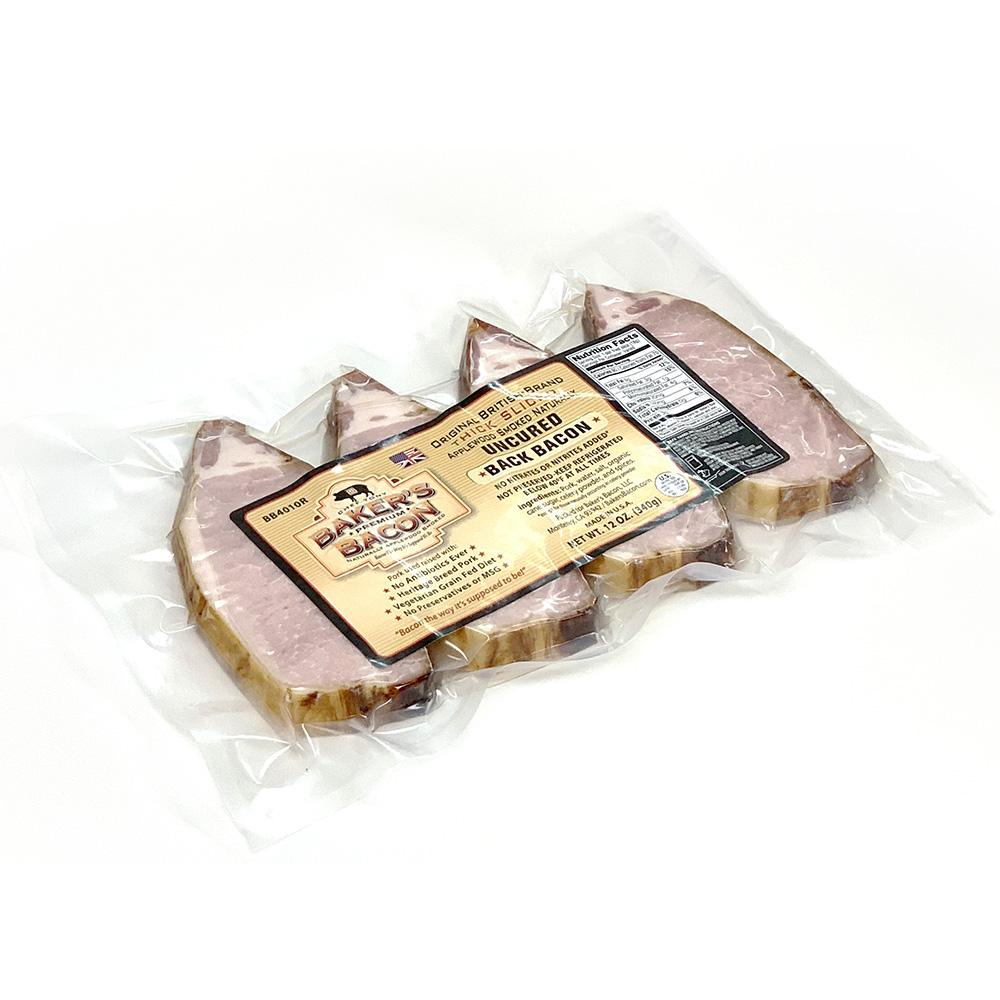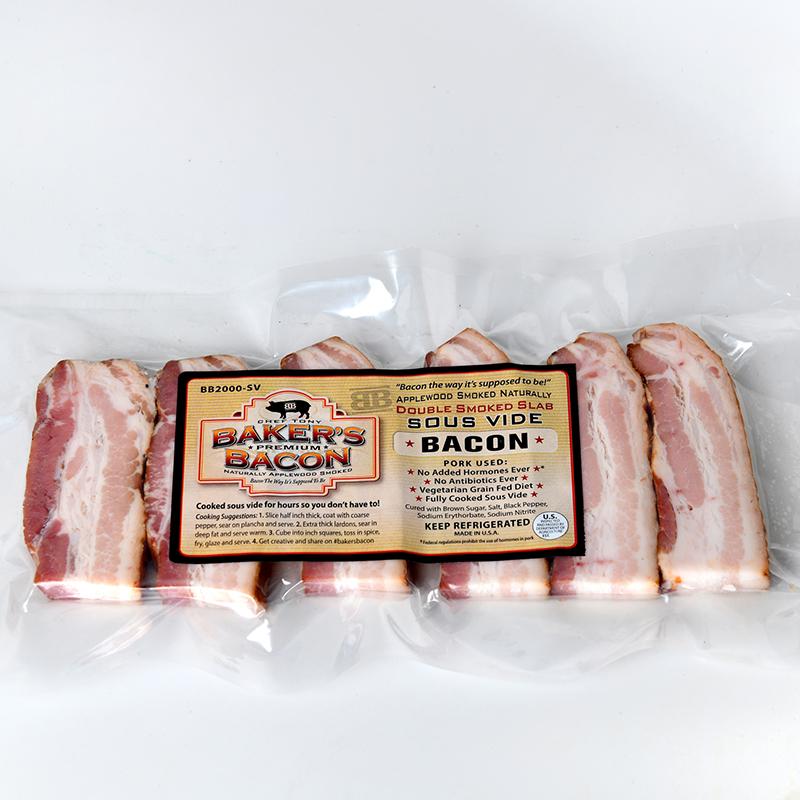 Thick Sliced
Sous Vide Bacon
Baker's Bacon
Sampler Pack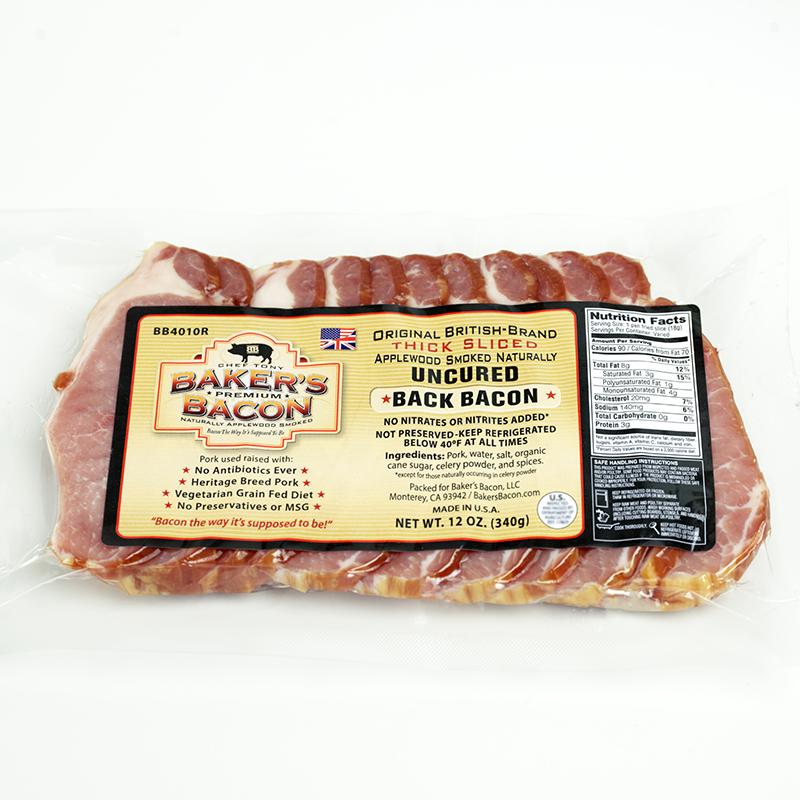 Thick Sliced Uncured
Back Bacon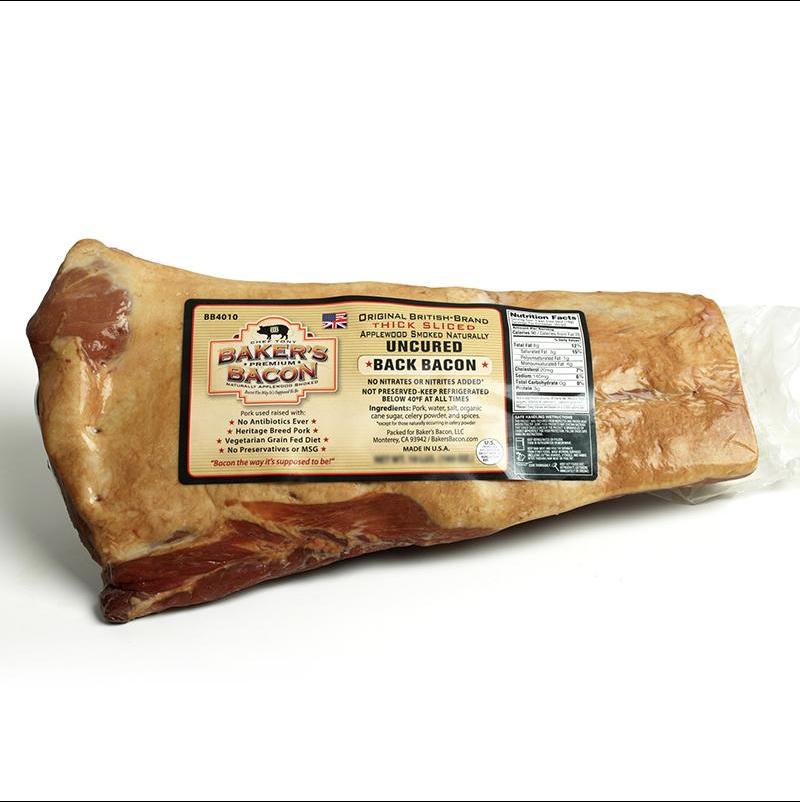 Uncured Back
Bacon Slab (2 lbs)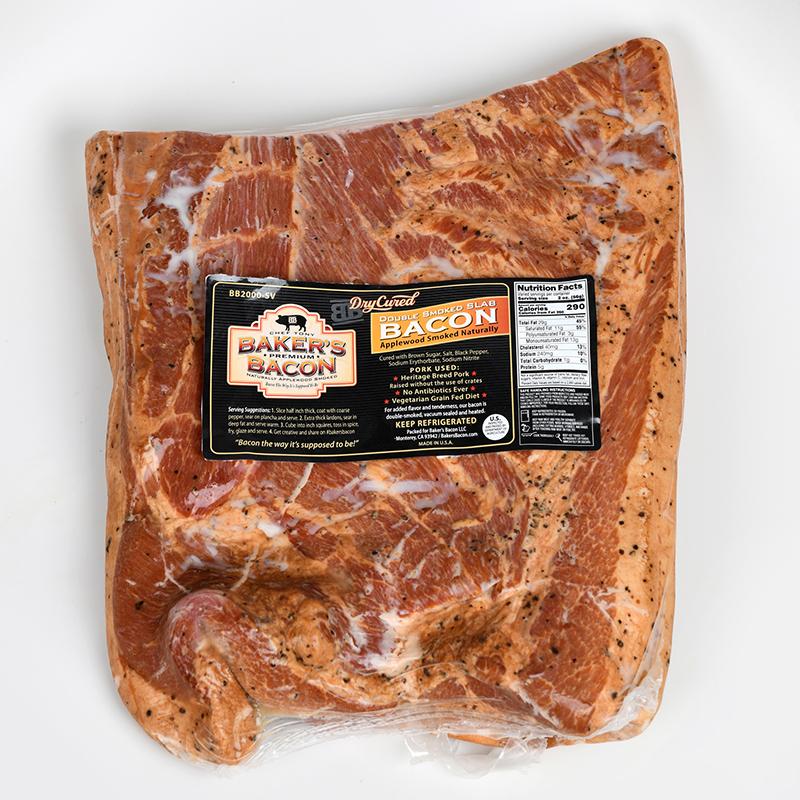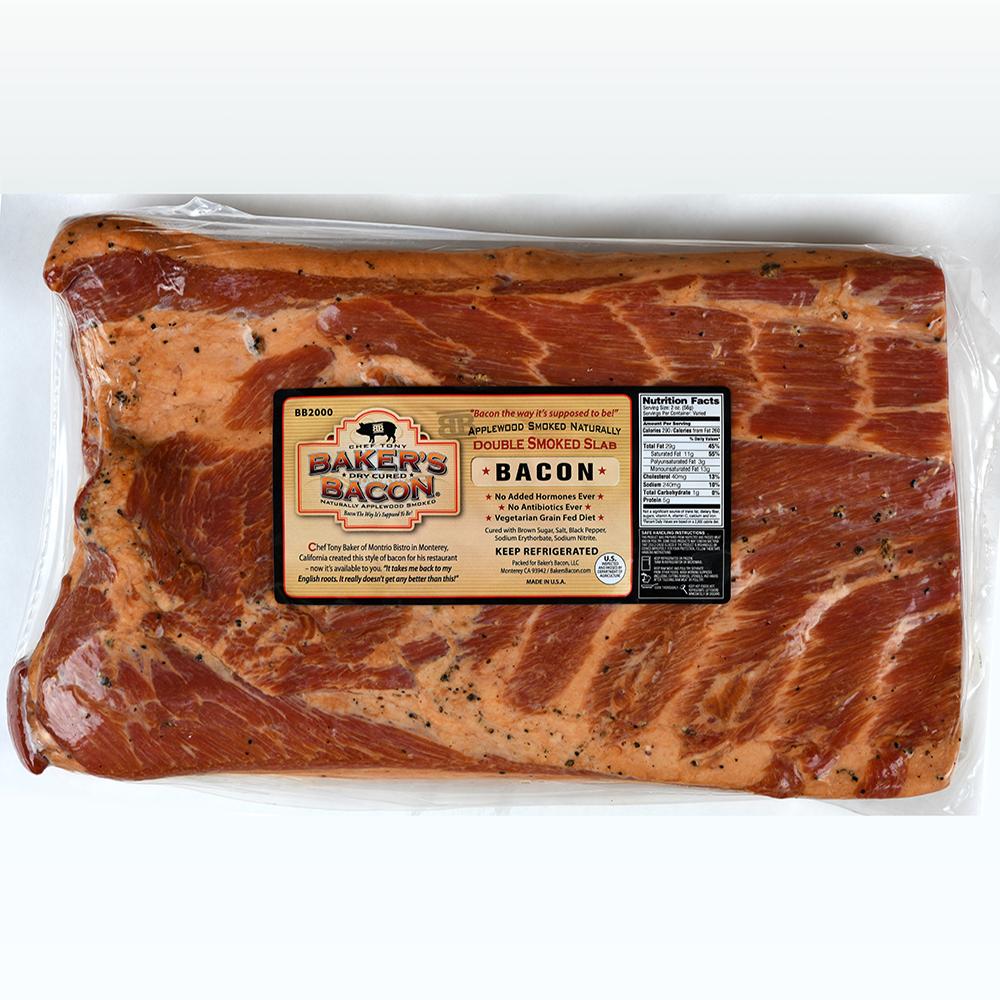 Double Applewood
Smoked Slab Bacon (2lb)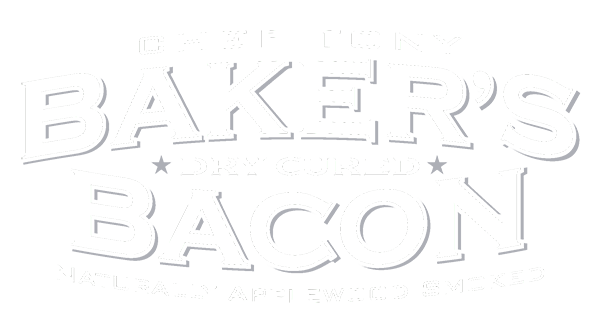 445 Reservation Rd Suite G
Marina, CA 93933
TEL: 831.250.0606
FAX: 831.886.3697
Copyright © 2023 Baker's Bacon, LLC. All Rights Reserved.